hehe blog about yesterday first.. yesterday morning went for my piano lessons.. started to learn ai no katamari.. ahh it's so nice~~ *shall practice hard and play a perfect one* then I was playing the song from my phone to let my teacher hear what the song is like.. then she saw my phone theme and wallpaper, so she asked me

"is that you?",

I said "no, i call him my brother",

"it's a he?"

"ya"

"he's a singer or what?"

"ya he's a japanese singer and he's very young"

"oh he looks a lot like you!"

"ya that's why I call him my brother"

"a lot people said that isit?"

"no lah, I say one"

haha let me correct the last sentence, actually there's like 3 people who agreed that I looked like yamachan just that I didn't think of that when I was talking to my teacher.. LOL~

this led to some of my past experiences, in 2002, I went into a CD shop to get Domoto Tsuyoshi Machi single, so the staff passed me the 3 editions, then he suddenly go "Omg you look like him!! oh you really look a lot like him!!!" and he was like being so excited as if he really saw a "Domoto Tsuyoshi".. LOL!! Okie so that was the first time my face got linked to a celebrity artiste.. Then last year during my attachment, there was one colleague who liked aaron yan from fahrenheit too, so her mp4 was actually having aaron's pic on it, then my lab manager saw the pic and she was like "he looks like you (me)!!" but I was like just being humble and said it's because of my fringe and hair and of coz she still go being excited again as if she saw aaron yan.. LOL~ then last year too, i asked my colleague to watch tantei gakuen because I've just gotten into yamachan.. so I actually found out myself that I think he looks like me.. XD so I asked them if they think he looks like me and they said yeah~ XD then my friend said once too..

So concluding, there's 1 person saying I look like Domoto Tsuyoshi, 1 person saying I look like Aaron Yan and 4 people saying that I look like Yamada Ryosuke, and therefore the winner is................. Yamada Ryosuke!!!!!! LOL~

Okie let me stop getting too show off.. LOL let's get back to topic, haha so yesterday after my lesson I met my sis, we got ourselves mosburger, the shrimp burger.. very nice!! lotsa prawns inside!! then we go home and prepare ourselves and my dad came to pick us to suntec city.. then my mum asked if he wanna shop as well he said he want so we went shopping together.. XD I got myself a pair of new comfortable shoes.. it's white and soft and I think should be nice to wear.. =D I love trancce shoes, their logo is exactly the same arrow you see on eien ni single cover.. XD that's why I love this brand.. XD I bought a pair from there previously and I liked the design too.. this one was on offer so I think still alright.. =D then my dad got 2 shirts on offer.. then we went to meet my aunt.. she and my uncle got clothes for my little cousin.. =D then my sis got herself some pregnant clothes.. then we went for lunch while I was waiting for mel's sms.. LOL~ had lunch at this thai restaurant.. the fish was good, but the pineapple rice portion is soo little! we had 6 people there!! LOL~ the chicken was nice too.. and then we went aussino to grab some bedsheets, and then to addidas because my uncle wanted to buy pants and since my sis was there she has a 30% discount..

then I went to expo to meet mel, and in the middle of the walk to the shuttle bus area her obi kept giving her problems so we had to re-tie her obi a few times before we actually got onto the shuttle bus.. LOL and yeah she wore her friend's yukata.. haha~ I wanna buy one yukata and one hapi when I go japan.. =) the one she wore was super silky and it costed like only 5000 yen?? so good.. and yeah we got to the Japanese Primary School, went to grab food immediately because due to past experiences, food is a must get since they get sold out quick.. XD we got okonomiyaki, unadon, coroquette, ramune.. I got myself a ice-cream later on.. XD and I grabbed a total of 4 free uchiwas because my mum loves them.. XD

we went to watch my school's performance first.. as usual, their dance was.. okie.. LOL (okie it's because I don't like the choreographer.. LOL) and it's actually quite erm.. too many interlude with no music, I know they are changing inside but there could have been more "entertainment" when they have silent periods.. it's definitely being compared with the previous performance.. and I thought the clothes.. could be nicer.. it's like, same design different color dress isn't really the only choice for retro? I thought the dressing could be better, but I think because the choreograhy wanted to show off so much he made the performance so long that one person have to dance to different songs and thus "have to change clothes" which in turn leads to "cannot wear too complicated clothes because later hard to change". and I think we couldn't really get the idea of the "storyline", and of course one thing I am very very not pleased with is that, this performance is actually a singing + dancing performance, and the "singer" which is also the "center of attraction" is actually the girffriend of the irritating choreography, so you get what I mean. =) she gets all the attention but well, I'm not exactly pissed with that, just that the singing performance is actually just lip-sync. it's so obvious, because the previous performance had a singing performance too and you can differentiate that it's a "live" singing because the quality of the voice won't be too good in a real singing performance, but in this case, the "singing" is so perfect that there is 100% flawless in it. and there was one point when she was singing as she pull off the mic, and yeah there's nothing wrong with that, what's wrong is that "the music is still being loud and clear", if you were pulling away your mic when you sing, is the voice gonna get softer or louder? is your voice gonna get blurred or become clearer? in this case her voice became louder and clearer which you can 100% confirm that it's just "fake singing". I always believe that a real good singer will sing live no matter what happens, ok take me for example, this year open house we performed singing performance as well, and there was many point during the song that my voice couldn't be heard because of the sound system, but is that bad or good thing? depends. bad because people couldn't hear you, good because they know this is a real live singing rather than just lip-syncto the song. I don't know what's the point of doing lip-sync.. i know johnnys does that but hey, that's because they are doing very professional dancing and professional lip-sync and most importantly they are handsome *cough*, okie that's because some haven't develop the potential to sing live, I mean, singing takes time to improve isn't that? didn't kinki first lip-sync too? but hey look at them now, PROFESSIONAL is what I call.. totally CD quality or even better than CD quality in their live performance, just look at any secret code performance and you know it. and so I was totally disappoined in this peformance of my school's.. it's not the first time "this lead singer" lip-sync, it's actually the 3rd time.. people says she sings well, and okie I don't exactly disagree, but what she did had already de-graded her into a just able to "lip-sync" singer. to me, no matter what the circumstances will be, no matter if my voice will sound panting if I'm also doing dancing, I won't agree to lip-sync.. because singing is what matters to me, and of course, to any people who love singing. you would like to bring to the audiences the voice of the current you and not the pre-recorded you. thus, disappointment is what I have for this performance, and another thing, this "lead singer" was 10min/10min out of position and she was blocking anyone she can behind her, and my fren was behind her thus, blocked. I don't understand, and she will never get reprimanded because she's the girl friend of that stupid choreographer. *end of ranting*

ok so after performance we went to grab some goodies, I got a lighting uchiwa and a crown head band for my cousin.. =D then we have our dinner first and we saw my ex-seniors and therefore picture taking~ and eating dinner halfway when it rained so we had to move again.. we went to use our games coupon we grabbed previously, I got 3 yoyo balls! hehe actually the first 2 i gotten by cheating.. XD then the japanese uncle said I could take more so I said 2 can? he showed me a "good" sign, but I only got another one.. XD so I got a total of 3.. XD then went for another ball game which I grabbed a hello kitty hugging tweety bird small figure (lol wth) and a ball and a mask spider or what for mel.. then I grabbed ice-cream.. then we went for the shuttle bus home.. saw stifa and the juniors on the bus and stifa wanted to take pictures with us so yeah we took.. XD then took train home after that..


haha that's about it I think.. such a long entry.. I wonder who will read this.. LOL


pictures spamming time!! =D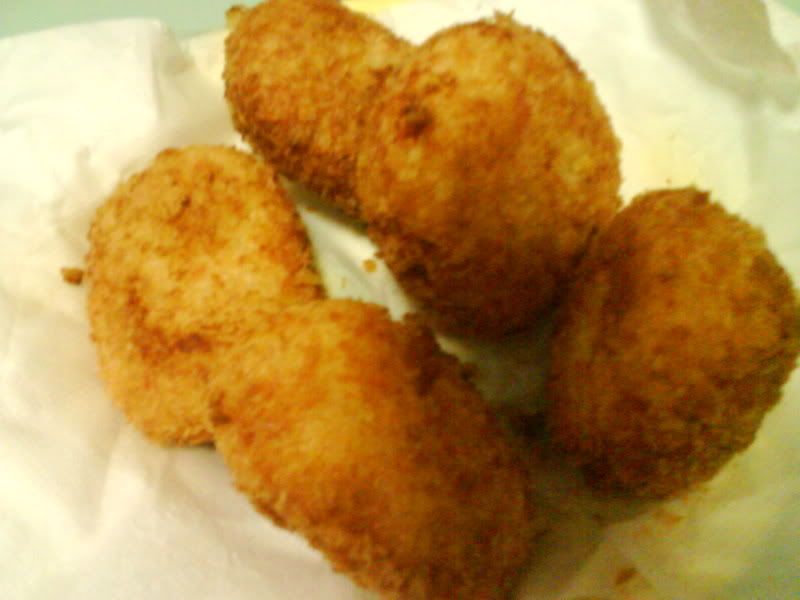 this actually the coroquette I made weeks ago.. XD very nice~~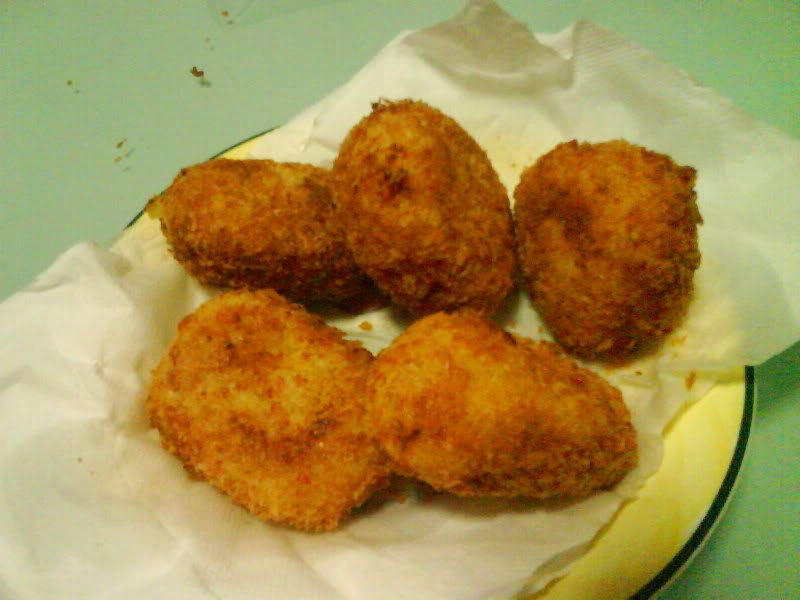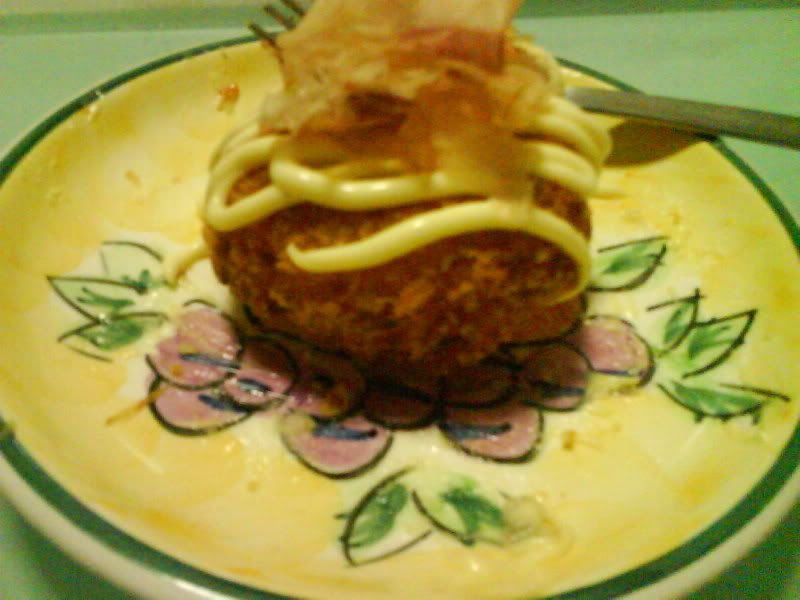 mayo plus fish flakes on the potato! XD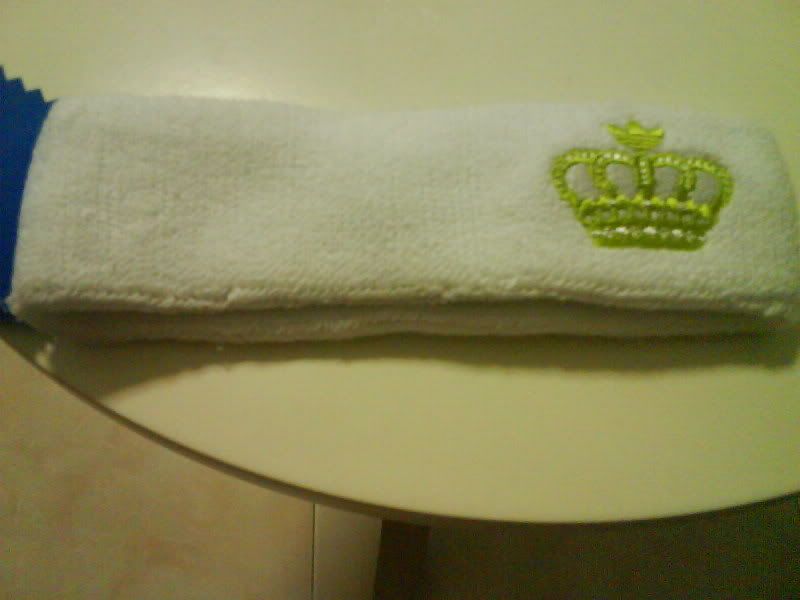 this is the addidas head band my sis gave me.. XD *wonder when i will use it*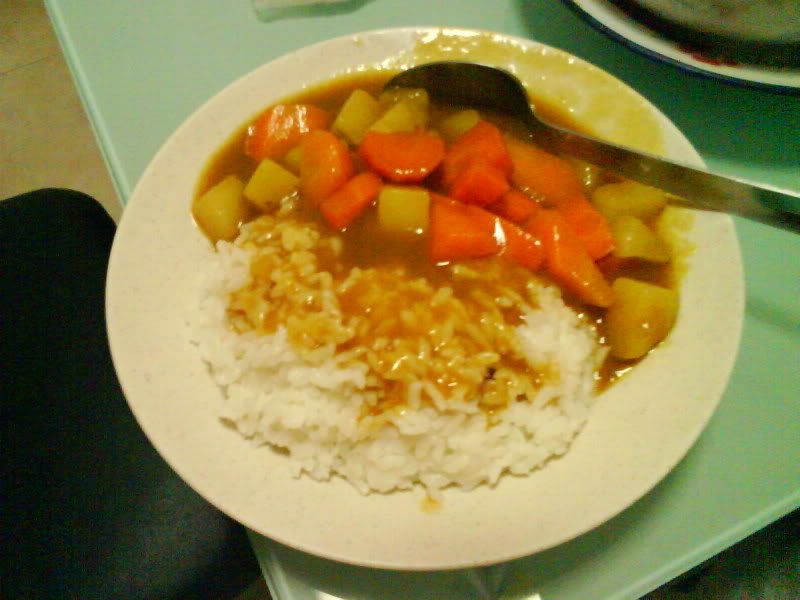 curry rice using vermont curry..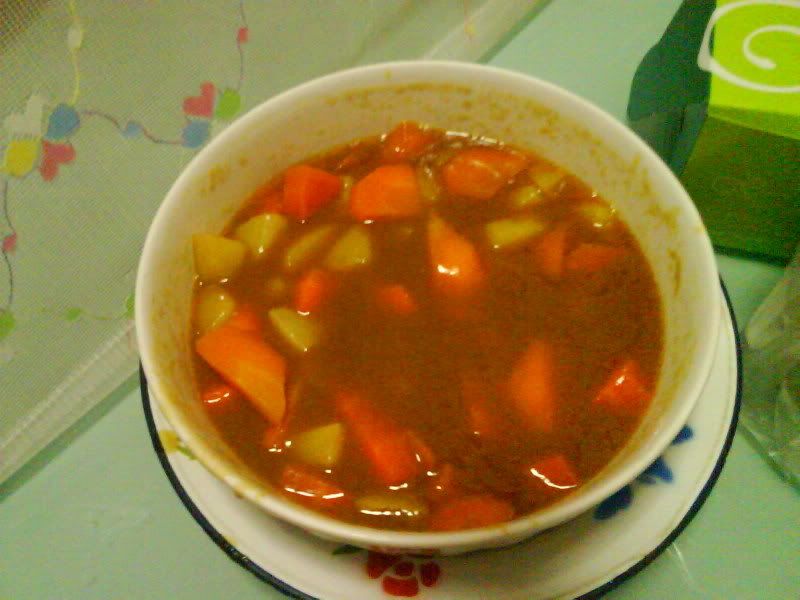 it doesn't taste much different from golden curry but I prefer golden curry because the sauce will be more concentrated as in it will not be so watery.. I think japanese curry ain't suited to be watery so.. golden curry!! hehe~
following are pictures from yesterday!! =D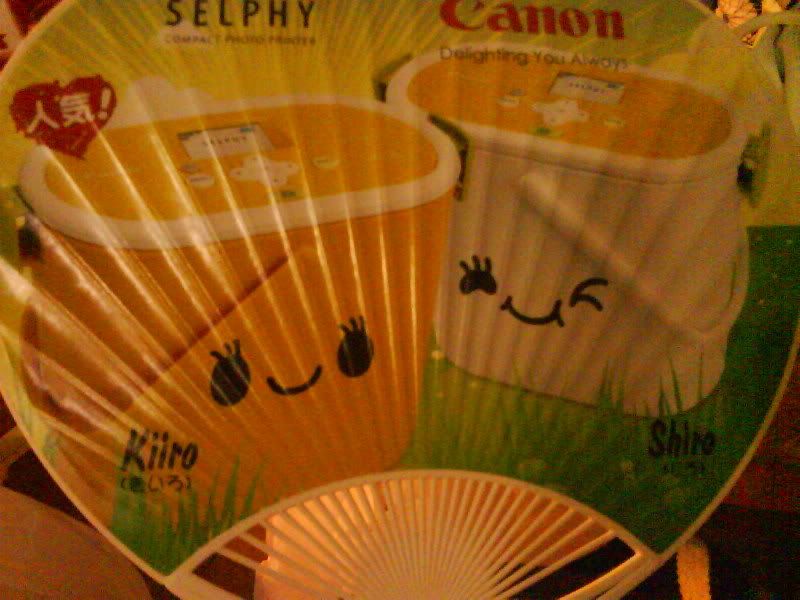 my uchiwa~ so cute~ XD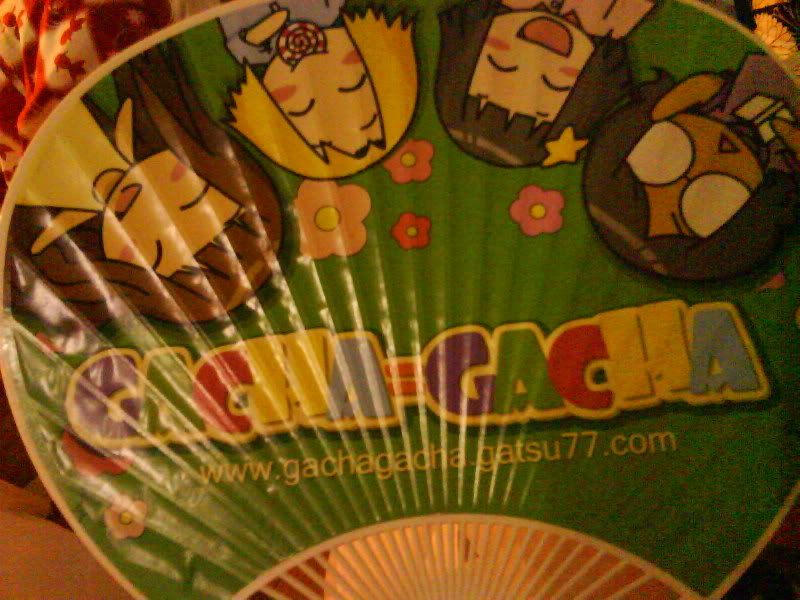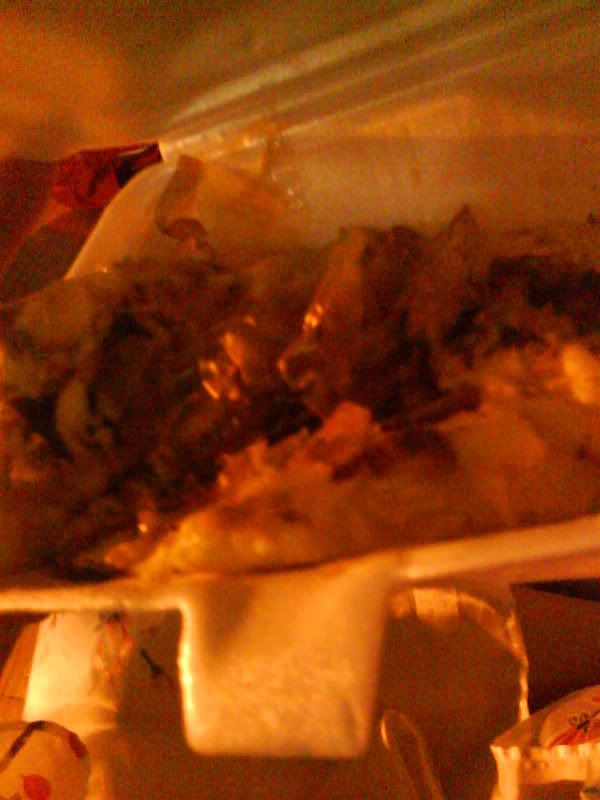 the okonomiyaki.. haha the orange lights are due to the spot light in the sports hall of the school.. their school hall have second storey like the schools we see in anime where people are standing on the second floor watching a basketball match etc..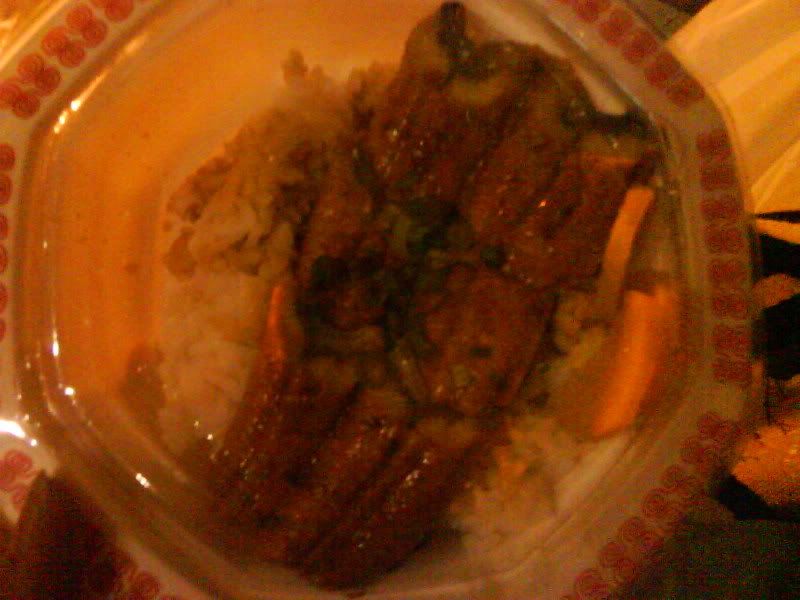 unadon~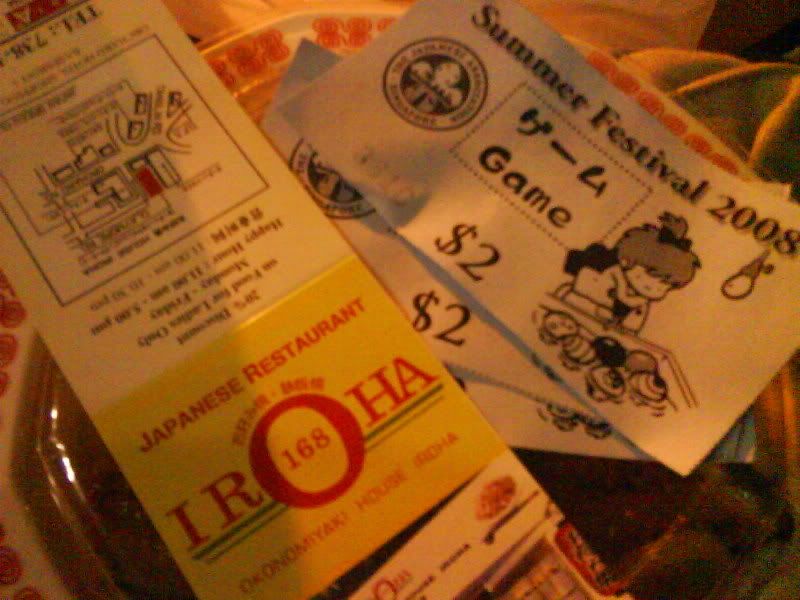 the games ticket..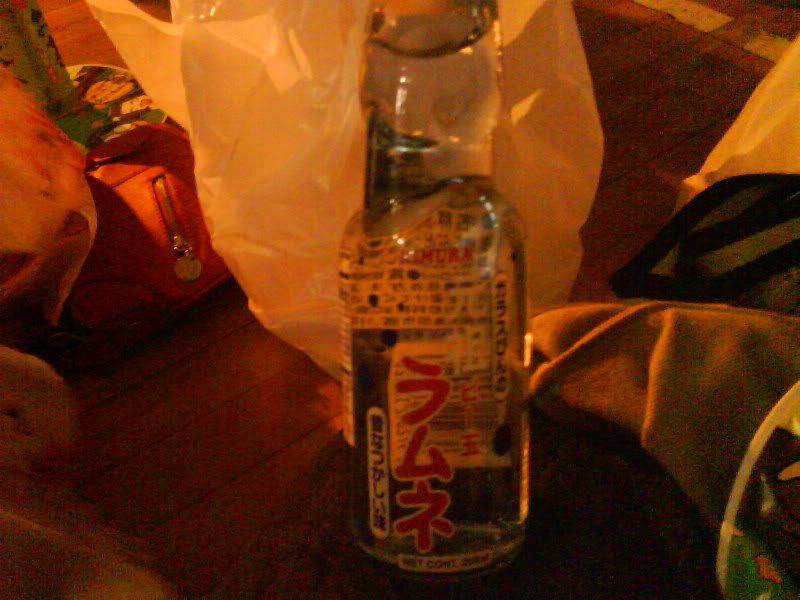 ramune drink~ XD love this.. =D this is super gasy that i nearly choked on it.. LOL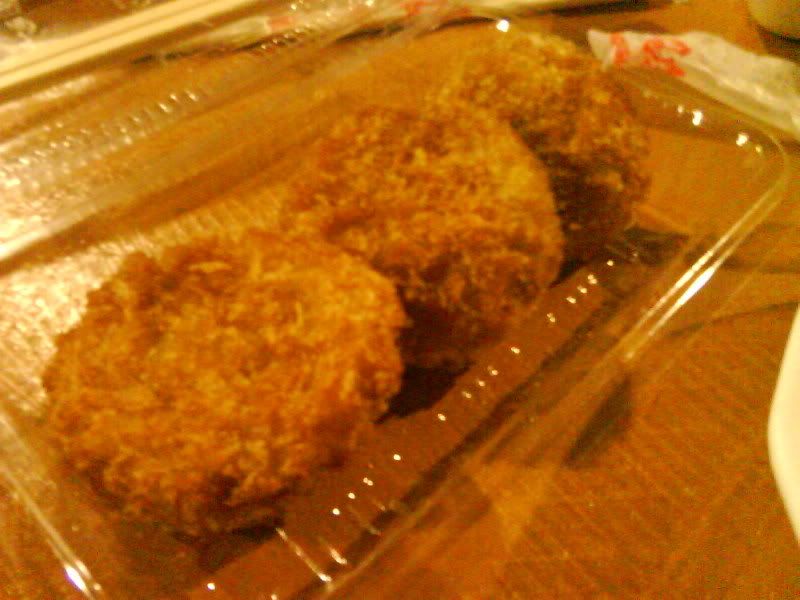 the potato coroquette.. I still prefer mine.. XD this is a bit soggy after so long.. LOL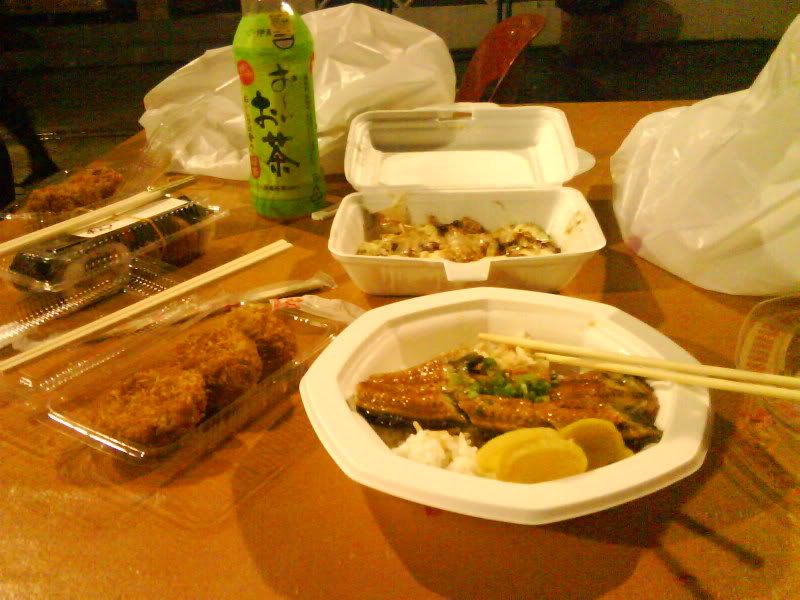 our dinner table..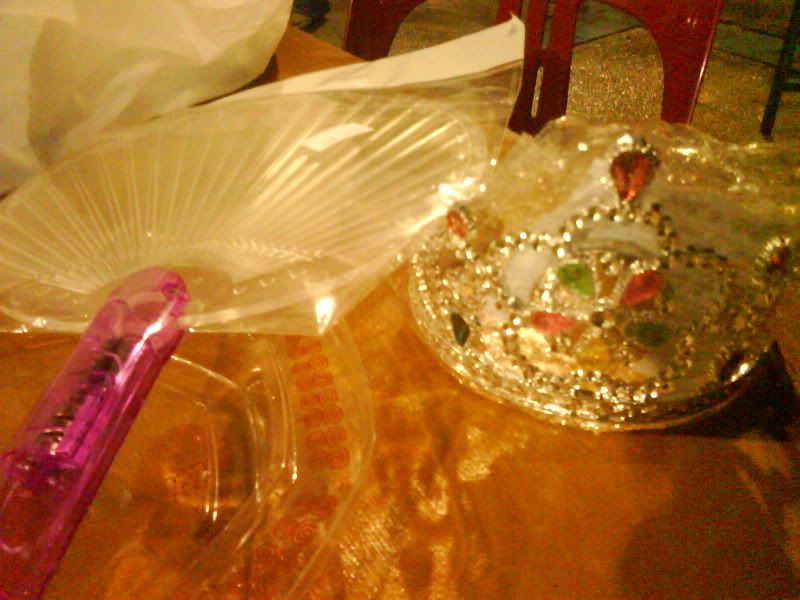 goodies.. =D


haha that's about it.. currently I only got one picture of "human" from my senior so I shall wait for more to come before I post more pictures.. XD

and so cya~

my new headphone came and I'm loving it!! =D
Posted at 01:38 am by selena244